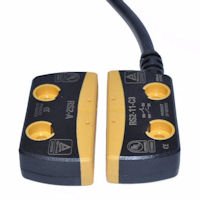 Eaton's RS safety interlock switches have been specifically designed to monitor protective guards, such as doors, flaps and hoods. All switches in this
family are safety-rated and use magnetically coded actuators to minimize defeat by simple magnets. With correct installation, the RS family complies with EN ISO 13849-1 and IEC 62061 guidelines.
Operation:
The RS safety interlock family includes three series: RS2, RS2R and RS4. The assembly comprises a sensor component and a separate magnet actuator component. The sensor is typically mounted to a stationary portion of a structure and the magnet to a movable portion. When the sensor and the actuator are within operating range, the NC contacts with be closed and the NO contacts will be open.
Features:
• Non-contact actuation
• Reversible mounting
• High misalignment tolerance
• SIL 3 and PLe ratings
• –10 °C to +55 °C temperature range
• IP67, IP69K
Benefits:
• Reduce SKUs
• Reduce installation time
• Tested to latest IEC and ISO standards
• Long life with non-contact actuation
• Wide variety of output contact configuration
• Industry standard mounting
Standards and Certifications:
• UL®, CE, cUL®, RoHS, TUV
Enquiry Form: http://www.epreston.co.uk/enquiries.php
Home Page: http://www.epreston.co.uk/epblog/