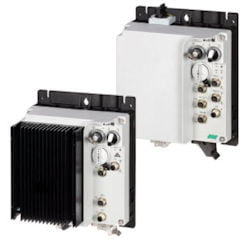 Rapid Link is a distributed, electronic drive system that is used for both simple and complex tasks in material handling systems. It offers all the features needed to switch, control, protect and network the electric motors of conveyor belts. The system consists of the RAMO5 electronic motor starter and the RASP5 variable frequency drive, both of which are available with IP65 protection.
Typical Rapid Link applications include baggage handling systems, industrial production sites and logistics centres. The devices are mounted in the vicinity of the drives, and can be quickly and reliably connected by means of standardised plug-in terminals. Users can switch between manual and automatic operation by means of a key switch. In automatic mode, the devices communicate via AS-Interface, the fieldbus of choice in material handling systems.  In addition, Rapid Link 5 can now also communicate via the Ethernet/IP and Profinet fieldbus systems.
CORE FEATURES
RAMO5 Electronic Motor Starter:
• One standardised size for power ratings from 0.09 kW to 3 kW
• DOL and reserving starter versions available
• On-site operation on board
• Long life span of more than 10 million operations
• Approvals: CE, cUL, CCC
RASP5 Variable Frequency Drive:
• One standardised size for power ratings from 0.75 kW to 4 kW
• On-site operation on board
• Precise and reliable vector control for PM motors
• Built-in STO (safe torque off) safety function
• Integrated breaking resistor for dynamic or lifting applications
• Integrated EMC filter
• Approvals: CE, cUL
A Practical Housing Design:
The unique and flexible Rapid Link 5 housing design makes it much easier to install new systems or expand existing ones. As a result, the power and motor cables can be supplied either from below or from the left or right, as required. This makes it possible to install each device in line with individual requirements while keeping the footprint to a minimum.
And thanks to the uniform mounting dimensions, which are identical across all types and power ratings, a single mounting frame covers the entire range. Should it become necessary to replace a motor starter with a variable frequency drive during commissioning, for example, this can likewise be done without any additional preparation time and costs.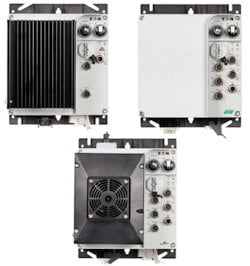 IoT Ready:
Rapid Link 5 forms an integrated system and covers the AS-Interface, Profinet and Ethernet/IP fieldbus systems. Integration into IoT solutions is therefore possible without any problems. In large material handling systems, this also enables a high degree of data transparency down to the device level, which allows for the implementation of remote maintenance and comprehensive power management. In addition, all the Rapid Link devices meet the highest security requirements and thereby offer effective protection against cyber attacks.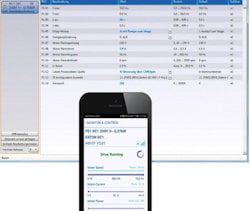 Easy Configuration and Diagnostics:
With the serial RJ45 interface, several configuration options are available: Eaton's comprehensive and convenient external keypads, the communication stick, the drivesConnect Windows software, or the drivesConnect mobile app for smartphones or tablets. This makes it possible to configure, copy and save the parameters as well as to display setpoint and actual values, or to read out the diagnostic and fault memory on site.
The simultaneous graphical representation of up to four real-time values allows users to gain a quick overview and to rapidly identify if any parameter settings have changed. In the case of parameter sets that have already been saved, offline processing without the variably frequency drive is also possible. The parameter sets can be easily copied to any number of devices, which also saves time during commissioning.
Enquiry Form: http://www.epreston.co.uk/contact/
Home Page: http://www.epreston.co.uk/epblog/