Supervision of a large and noisy assembly or production area can often be difficult as traditional smaller sized beacons and sounders can sometime be ignored.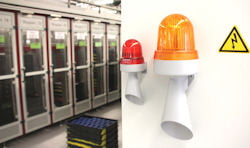 Very bright, very loud and very big…..The new 430 series offers a range of LED lights, permanent, flash, rotating and the strobe-like EVS light. The integral sounder has a massive output adjustable up to 105dB with 32 available tones to select from.  The unit is approximately twice as large (407mm high) as the traditional combination unit available.
The optical and audible signals can be triggered separately to provide users with the option of activating just one signal type or both at the same time to generate a maximum level of awareness.
In addition to versions for base mounting, the signal devices are also available with a practical mounting bracket.  Long Life and maintenance-free Using the latest LED technology gives the unit a life of typically up to 100,000 hours.
.
Enquiry Form: http://www.epreston.co.uk/enquiries.php
Home Page: http://www.epreston.co.uk/epblog/