Sunon's Power Motor 4028 Fan (40×40×28 mm) provides increased airflow, static pressure and high temperature endurance, making it the ideal thermal solution for the 1U-2U server market.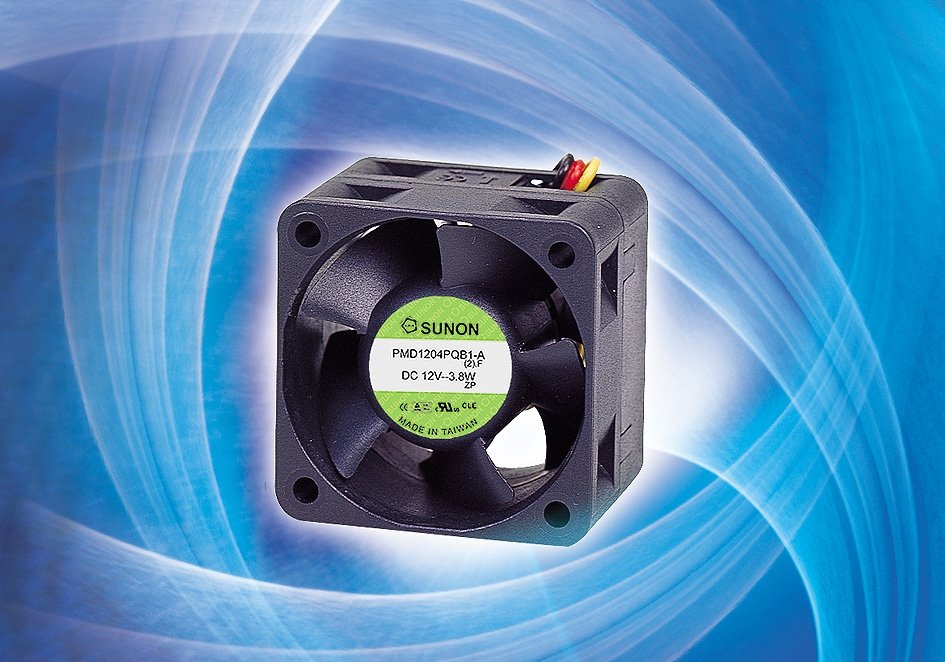 Increasingly powerful high-density information technology devices, like rack-mounted server and telecommunication boxes, have resulted in increased temperature outputs from the CPU, chips and RAM.  This has led to a notable increase in demand for more powerful cooling fans.
In the great majority of 1U-2U server applications, thermal management criteria are a major consideration when customers are making their choices.  In rack-mounted applications, the internal area of the box is often so dense that static pressure as well as airflow is a big concern.  A thermal solution must smoothly direct cooling air and powerfully overcome system resistance throughout the confined space.  Furthermore, the majority of servers operate 24 hours a day, generating high temperatures from their CPU, chipset, memory chip and power supply.  As a result, the amount and quality of the thermal cooling directly relate to the life expectancy of the server.  In conclusion, high airflow, high static pressure and long life expectancy are 3 essentials for a server fan.
The PMD 4028 is driven by an unique DC brushless motor that was developed, patented and manufactured by Sunon Research, the R&D engine behind Sunon Group. The series has benefited from the redesign of its electronic circuit, motor and impellers, which has increased the airflow and the static pressure of the new product by around 30%, in comparison with competitive products at 11,000 rpm. In addition, Sunon now launches the 13,000rpm version among competitors, which produces an amazing airflow of up to 23.5cfm at only 51.5 dB(A), temperature endurance at 700C supplied as standard, and a 900C version is also available for customers' advanced criteria.
Product Features
Expected life:  50,000 hours
Rated Voltage:  12 Vdc
Speed/ Noise level/Air Flow:
13,000 rpm /  1.5 dB(A) / 23.5cfm
11,000 rpm / 45   dB(A) / 18.9cfm
 9,200 rpm / 40.5 dB(A) / 15.3cfm
Temperature Endurance: 700C as standard (900C optional)
Applications: Rack-mounted servers, telecommunication boxes, Industrial PC's
Sunonwealth Electric Machine Industry Company Ltd. (Sunon) is a global manufacturer specialising in fans and heat transfer solutions with its brand name, SUNON.  For the past 23 years, SUNON has worked relentlessly in the research and design of new cooling fans and motors.  Today, the SUNON brand enjoys a great reputation worldwide and is undoubtedly a contributor to high-quality cooling fans and precision motors.  Its 50% market share in notebook cooling fans means that one of every two computers uses Sunon's heat transfer solutions.  In addition to computers, Sunon's market share in cooling fans for applications such as overhead projectors and high-end stereo systems is also outstanding.
Currently, Sunon has organized the corporate structure with its headquarter in Kaohsiung, Taiwan, and subsidiaries in Europe, USA, Japan, Hong Kong, and Singapore.  The company now maintains more than 70 distributors and 1,000 sales representatives, providing a broad customer service and technical support system around the world.
Enquiry Form: http://www.epreston.co.uk/enquiries.php
Home Page: http://www.epreston.co.uk/epblog/