Lorlin Electronics, the UK's longest established switch manufacturer, announces the introduction of the WRL series of waterproof miniature key operated lock switches.  Sealed to IP66 and IP67 these single or double pole snap-fit switches may be operated by a single common key or one of up to 200 different combinations.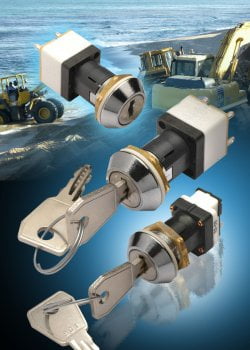 Manufactured at Lorlin's own factory in the UK the WRL waterproof lock switch is a compact, rugged design, simple to mount, occupies a small panel area and projects less than 30mm from the rear of the mounting panel.  All WRL switches are RoHS compliant and an optional M16 earthing tag may be specified where panels might be insulated. The lock is mounted to the panel from the front and the electrical switch snaps on to the back of the mechanism. 60˚ and 90˚ key indexing versions are available and the key may be inserted into the lock either way up and withdrawn in both the locked and unlocked switch positions.
The WRL miniature lock switch is rated for currents up to 5A at 115VAC over an operating life of >10,000 cycles and has an operating temperature range of –20 to +65°C.  The new WRL switch family meets a growing need for secure switching in security, alarm, vehicle, marine and industrial applications which may be outdoor or where washing or cleaning is required. We ship high volumes of standard key switches each year and we can now meet the many requests we receive for a waterproof version."
Typical applications for the Lorlin WRL miniature lock switch include, security shutters, alarm and security control panels in airports, prisons, police stations etc, factory equipment, instrumentation and electrical control panels.
Enquiry Form: http://www.epreston.co.uk/enquiries.php
Home Page: http://www.epreston.co.uk/epblog/