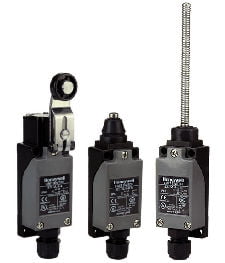 Honeywell is pleased to announce an upgrade to the Micro Switch SZL-VL Series Limit Switch effective May 2017.
The new product features include the addition of positive opening contacts (side rotary version only), enhanced sealing level to IP67; NEMA 1, 12, 13, extended the temperature range, and added CCC certification.
The upgraded design includes modified seals, housing and a new design cable gland to improve seal performance. The housing design and mounting hole pattern remain the same. Any dimensional changes do not exceed more than 1mm.
These product enhancements will allow the potential for use in wide variety of applications as well as bring more value to our customers.
The upgrades to the SZL-VL Series require that we introduce new part numbers and obsolete the existing SZL-VL part numbers.
Value to Customers
Honeywell Micro Switch SZL-VL-S Series Miniature Limit Switches have user-friendly interfaces and may be used in a broad range of applications to help meet the challenges of many industrial environments. A variety of actuators fit on the same platform reducing the need to use various kinds of mounting hardware.
With robust environmental ratings, the SZL-VL-S is protected for all kinds of industrial applications. IP67 indicates that the SZL-VL-S is protected against the effect of immersion in water between 15 cm and 1 m. The competition standard is IP65 which can only withstand low pressure spray and jets of water. The electrical rating of 10 A permits the SZL-VL-S switch to be used with heavier electrical loads than competitors.
Key Features
* Approvals: CCC, CE, cULus
* Sealed to IP67, NEMA 1, 12, 13
* Snap-action contacts
* Die-cast metal housing with glass-filled, flame-retardant thermoplastic cover
* Stainless steel levers with either steel and nylon rollers
* Variety of actuators
* Positive-opening contacts (plunger version only)
* RoHS compliant
* Utilization category:
>AC-15 A300 (380 Vac/0.5 A)
>DC-13 Q300 (220 Vdc/0.05 A)
* Mechanical life rating: 10 million cycles
* Electrical life rating: 0.5 million cycles
Potential Applications
* Commercial appliances
* Exhaust and fume hood door monitoring
* Lift mechanisms inside high-density parking garages
* Logistic facilities
* Machine electrical interlock
* Machine position sensing
* Ramp up and down position monitoring
* Scissor and man lifts
* Vending machines
Enquiry Form: http://www.epreston.co.uk/enquiries.php
Home Page: http://www.epreston.co.uk/epblog/