Protecting and Switching in a Single Component
E-T-A's 3120-N is a single pole or double pole thermal circuit breaker with a bimetal trip element that also serves as an ON/OFF switch. After tripping due to overcurrent, the 3120-N can easily, reliably and quickly be reset. Time-consuming replacement of fuses is eliminated. The 3120-N circuit breaker/switch combination helps you significantly reduce mounting and wiring time as well as expenses for material planning and stocking expenses.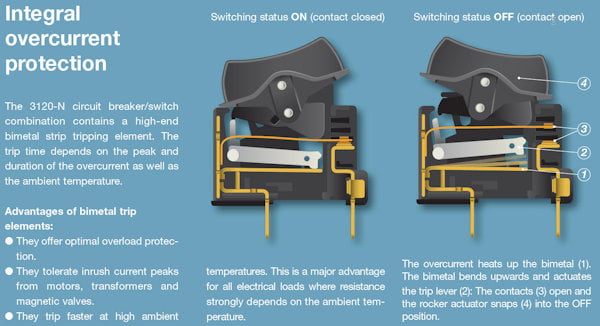 The 3120-N rocker version is available as non-lighted or lighted (12 V – 400 V) and offers various actuator colours as well as marking choices. The 3120-N push button includes the traditional red/green option as well as a unique offering of protection from accidental operation.
                   With Rocker Actuation:                                                With Push Button Actuation:
* Add-on modules for undervoltage release, magnetic trip, remote trip and auxiliary contacts are also available. Appliance inlet modules, plug-in connectors, terminal adapters and a range of additional accessories guarantee solutions for your challenging applications.
Benefits:
• No fuse replacement required – After tripping due to overcurrent, the 3120-N can easily, reliably and quickly be reset.
• Reduced mounting and wiring time – You only mount one component. In addition, cables to connect switch and blade fuse are eliminated.
• Reduced planning and storage costs – 3120-N replaces a switch, a fuse-holder and blade fuses. This makes purchasing logistics much easier.
• Space-saving design – The 3120-N features space-saving integral overcurrent protection. This leaves room for creativity and ideas in terms of space design, even in constricted areas.
• Enhanced reliability – Less single components always mean: less sources of error. E-T-A's 3120-N helps you consistently increase the overall reliability of your products.
Applications:
• Household, Hobby & Garden Equipment
• Industrial equipment control
• Medical technology
Click for More Information →   3120-N New Generation
Enquiry Form: http://www.epreston.co.uk/contact/
Home Page: http://www.epreston.co.uk/epblog/