Plug-In / PCB Mount Solid State Relays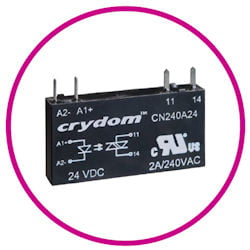 Sensata | Crydom CN Series AC & DC Output Plug-in Solid State Relays are thin 5 mm wide relays ideally suited for high density PCB applications.
CN Series SSRs are designed to be pluggable into industry standard relay sockets or solderable into printed circuit boards, and they are available in ratings of 2 Amps at 24 to 280 VAC or 0.1 to 6 Amps at 0 to 100 VDC. They are UL recognized and CE compliant.
Features:
• 5 mm Mini SIP SSR
• Ratings 24VDC _3.5A, 48VDC _100mA, 100VDC _6A and 240VAC_2A
• DC Control, 5, 24 and 60 V
• UL & cUL recognized @ 40°C, 100K-Cycle Endurance Test
• CE & RoHS Compliant
Applications:
• Automation Equipment
• Test Equipment
• Packaging equipment
• Valves & Solenoids
• Vending Equipment
• Medical Equipment
Enquiry Form: http://www.epreston.co.uk/contact/
Home Page: http://www.epreston.co.uk/epblog/