The Best Switches Come In Small Packages
Leading designer and manufacturer of switches, sensors and controls, ZF Electronics, has launched a new series of sub subminiature switches which suit applications as diverse as automotive door latches, industrial locking systems, outdoor equipment and hand-held control units.  Demands on electronic components for increased reliability and functionality increase year on year, together with the need to achieve higher specifications within ever-shrinking housing sizes.  The new DK sub subminiature series from ZF Electronics provides the smallest dimensions and highest performance for a snap switch in its class.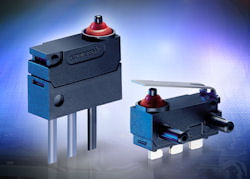 DK switches are less than 15mm in length and are sealed to IP6K5 (IP6K7 on request) for use in wet or dusty environments. With temperature ratings of up to 105degC, they are extremely reliable, with a long mechanical life of over 500,000 actuations. Additional actuators are available in a choice of either simulated roller or plain stainless steel and can be operated vertically or via customised actuators.  DK switches offer long over-travel features (1.3mm minimum) and have a variety of connection possibilities with solder, PCB terminals or pre-wired options all available.
Standard DK sub subminiature switches are designed for use on low-voltage DC circuits – nominal current rating is 5mA up to 2A. Non-standard versions are also available for circuits up to 60VDC, for example for use in battery-powered equipment.  Very low voltage applications are also possible, such as the switching of thermo-couples.  Contact configuration is single pole, dual throw (SPDT) with the benefit of AuAg crosspoint contacts for high contact stability. DK series switches can also be ganged for multiple use.
.
Enquiry Form: http://www.epreston.co.uk/enquiries.php
Home Page: http://www.epreston.co.uk/epblog/