Wireless to USB Gateway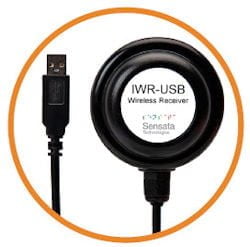 The IWR-USB Gateway provides a link between wireless sensors and any PC with a USB connection.
A free of charge software package allows monitoring and logging of all the sensors in the wireless network via a standard PC.
The IWR-USB saves the time-stamped data collected in a standard .csv file for easy handling by packages such as Microsoft® Excel®.
Features:
• 2.4GHz Wireless to USB Gateway
• Enables easy monitoring of our wireless networks using any PC
• Free of charge monitoring software allows all wireless parameters to be viewed and logged
• Logs data to .csv file

Multiple battery powered sensors transmit data at programmable intervals to a IWR-USB receiver which can then be connected to a standard PC for monitoring and logging the data from the wireless transmitters.  Data from up to 128 parameters can be accessed via the IWR-USB receiver.
Enquiry Form: http://www.epreston.co.uk/contact/
Home Page: http://www.epreston.co.uk/epblog/