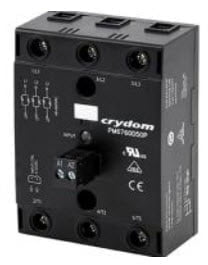 The Nova22 PM67 is a compact 3-phase solid state relay in a panel mountable 67.5mm wide package with output ratings up to 75 Amps per channel @ 40°C. Its built-in overvoltage protection and the optional overtemperature protection make it suitable for demanding heating, motion and lighting applications.
It's easy to install and its large cage clamp terminals allow connecting wires up to 2 AWG size on the output terminals without the use of any additional accessories, therefore reducing installation cost and time.
UL approved and VDE certified, the PM67 is a powerful and versatile solid state relay with superior performance when compared to previous generations and competitor products.
Features:
• Output ratings up to 75 Amps at 600 VAC
• 2 & 3 controlled Legs option
• Over Temperature protection w/alarm (optional)
• Built-in overvoltage protection
• Clamp Cage terminal type accepts up to 2 AWG wire size.
• Layout of mounting holes compatible with standard hockey puck SSRs
• IP20 touch-safe housing
• AC or DC control
• C-UL-US recognized and VDE approved
Enquiry Form: http://www.epreston.co.uk/enquiries.php
Home Page: http://www.epreston.co.uk/epblog/