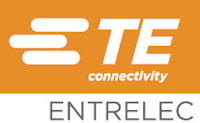 IDC technology: Connection Capacity: from 0.75 to 4 mm² – 18 to 12 AWG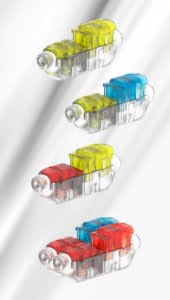 IPX8 are the fastest, easiest and most convenient wire connectors in the industry for Indoor and outdoor installations. The IDC (Insulation Displacement Technology) allows the installer the convenience of not having to prepare the wire before installation. Simply pick the correct connector for the wire gauge selected and crimp the terminal using a standard set of pliers by pushing the button to complete the process.
SPEED UP YOUR PROJECTS
Instant Connection:
Save installation time and eliminate the need to pre-strip wires with insulation displacement technology (IDC).
No Special Tool Required:
All installation connectors allow for push button termination using a common pair of pliers.
Easy Wire Size Identification:
Red, yellow & blue color coded termination buttons take the guess work out of matching wire size to appropriate connector.
EASY TO INSTALL
Independent Connections:
Easy factory or field installation using independent left and right side push button termination.
Visual Control:
The design includes a clear body material for visual inspection of the connection.
Easy To Assemble Together:
Flexibility in multi-pair termination design with stacking feature.
FOR ALL YOUR NEEDS
Protection Against Water and Dust:
The gel inside the connectors gives an IPX8 Ingress Protection (2 hours, 1 m under water).
Large Wire Size Range:
Connection capacity from 0.75 to 4 mm² (18 to 12 AWG) and connectors with mixed cross-sections.
Large Temperature Range:
Resist to an ambient temperature from -40°C to 75°C. Operating temperature between -40°C and 105°C.
Enquiry Form: http://www.epreston.co.uk/contact/
Home Page: http://www.epreston.co.uk/epblog/