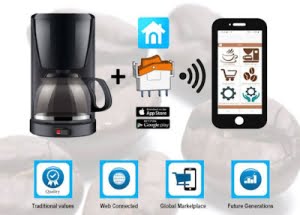 An innovative IoT Rocker switch is getting traction at Johnson Electric Switch Competence Center in Halver . The next step in switch technology is a smart interconnected product.
Traditional rocker switches that can be found in coffee machines and other appliances and always require human interaction to directly turn them ON and OFF. With this product, our customers have an opportunity to easily replace the current manual switch with the new IoT Rocker switch and convert their appliance into a smart device.
Our innovative solution will maintain the full manual actuation of the rocker switch and at the same time add smart remote functionality. A very important feature is that the physical rocker position follows the remote commands.
Johnson Electric innovations are the solution to bridge the gap between passive applications and controller driven smart home appliances.
Typical Applications in the Smart Appliances Segment:
• Small appliances (coffee machines, vacuum cleaners etc.)
• Large appliances (refrigerators, range hoods, ovens etc
• Wearables and augmented reality.
• Remote control or monitoring industry equipment
Enquiry Form: http://www.epreston.co.uk/contact/
Home Page: http://www.epreston.co.uk/epblog/