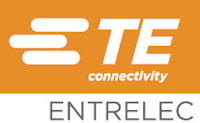 PVC & Halogen Free: 25/40/60/80/100/120 mm width 30/40/60/80/100 mm height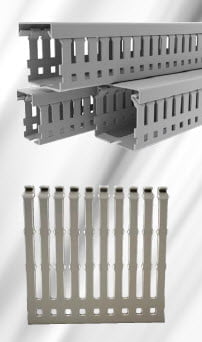 The Entrelec wiring duct range includes popular profile widths such as 24, 40, 60, 80 100 and 120 mm. The high-quality PVC & Halogen Free material allows the use in many applications such as standard industrial applications with PVC range to the most demanding applications such as railway, high buildings, marine and public buildings with the low smoke and Halogen Free range. The specific design offers many solutions to optimize and simplify the wiring.
SPEED UP YOUR PROJECTS
• Save time while breaking off ribs without using any tools
• Additional hole on the side, allow the use of cable ties to group your cables in an efficient manner
• Speeds up your maintenance work with our cover design that ease cover removal
• Quickly mount wire retainers on the bottom rail of the duct without screw and slide them along the rail.
EASY TO INSTALL
• Special rib pattern design allows more proper wire placement and cable grouping
• Lower scoreline provides easy splitting of wiring duct's base and wall with no sharp edges
• Upper scoreline provides easy breaking off the ribs
• Smooth, burr-free edges protect installers from injury and wires from damage
FOR ALL YOUR NEEDS
• Low Smoke Halogen Free Wiring Ducts Fa ily complying with EN45545-2 (R22-R23,HL3) for railway
• Flame-retardant, self-extinguishing according to UL94-V0
• Wiring duct covers hold securely even in a vertical position and under vibration
• Temperature range from -25 °C up to +90 °C.
Enquiry Form: http://www.epreston.co.uk/contact/
Home Page: http://www.epreston.co.uk/epblog/