Relay Interface Modules – Single Output SSR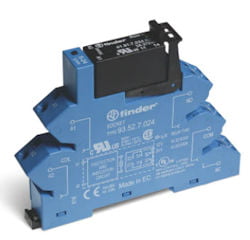 Function:
• Type 38.41 Relay Interface Module with solid state relay, single output, width 14 mm.
• Equipped with screwless (spring clamp) terminals.
• With AC or DC output circuit and DC input circuit.
• 35 mm rail (EN 60715) mounting.
• Designed for interfacing with PLC systems.
Features:
• DC power supply
• Supplied with voltage presence circuit and coil protection
• Quiet, high switching speed and electrical life
• Removal of the relay through the plastic retaining and release clip
• UL Listing (relay/socket/jumper link)
• 35 mm rail (EN 60715) mounting
Applications:
• Bottling Plant
• Packaging Machines
• Control Panels
• Traffic Light Controls
• Vending Machines
• Programmable Controllers
• Panels for Electrical Distribution
• Labelling Machines
Enquiry Form: http://www.epreston.co.uk/enquiries.php
Home Page: http://www.epreston.co.uk/epblog/