New DC Output SSR Models:  DIN Rail, Panel Mount and Plug-in Solid State Relays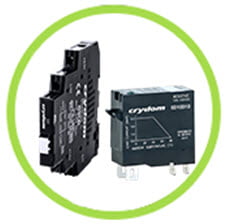 Sensata / Crydom are pleased to announce the expansion of their DC Output Solid State Relay offering. The new models extend across 4 popular series, including the SeriesOne DR, CN Series, EL Series and ED Series.
The number of applications for DC output relays is increasing, mainly due to the increase of portable devices, solar powered systems and electrification initiatives. Taking advantage of improved switching components, Sensata is expanding the current handling capability of select families of DC output SSRs, while maintaining the same form and factor.
Enquiry Form: http://www.epreston.co.uk/contact/
Home Page: http://www.epreston.co.uk/epblog/