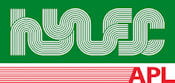 New DFH02 plastic PCB fuse holder with optional transparent insulation cover from Hylec for PCB and thru-hole mounting
Vertical orientation; 22.6mm pitch, UL94V-2 polycarbonate cover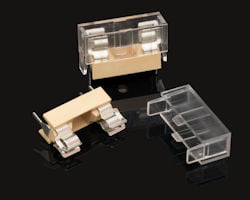 Hylec-APL, the specialist supplier of electrical components and enclosures, has launched a new 5mm x 20mm PCB fuse holder, the DFH02, for either PCB or thru-hole mounting. The DFH02 features a transparent insulation cover which provides protection for the fuse and makes installation and removal simple. This style of fuse holder is the most popular and best-selling type of fuse holder on the market.
Suitable for use in all types of circuits, Hylec's DFH02 PCB fuse holders provide a secure and safe method for mounting fuses on all types of PCBs and eliminate the problems associated with using fuse clips on a PCB. Easier to install than fuse clips, DFH02 fuse holders are also low-cost and ensure a reliable electrical and mechanical connection.
The 22.6mm pitch DFH02 can be mounted direct to the PCB in horizontal orientation or thru-hole mounted for vertical orientation. Electrical rating is 6.3A at 250VAC maximum.
The base material is thermoplastic, PA66 glass-filled, offering mechanical strength and excellent dimensional stability. It meets UL94V-0 flame-retardancy standards. The transparent insulation cover is rated UL94-V2.
Dimensions of the DFH02 base are: 13.5mm high off the PCB, width 9.0mm, 22.0mm long. Pin pitch is 22.6mm. Total height with cover off the PCB is 15.0mm.
Enquiry Form: http://www.epreston.co.uk/contact/
Home Page: http://www.epreston.co.uk/epblog/