Sensata is pleased to announce the Cynergy3 FSU Series Flow Detection Switch.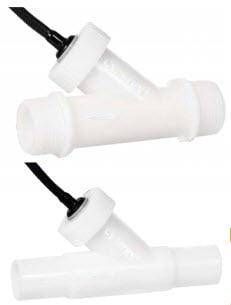 FSU Series switches have industry standard process connection sizes (push fit or NPT thread) that give a quick and reliable method of installation. The FSU Series of pre-set switches uses a reliable and robust reed switch design for operation. This family is NSF-61 certified and therefore meets the stringent requirements for the control of equipment that comes in contact with potable water.
These flow switches are designed for use in liquid flow systems at pressures up to 10 bar and temperatures up to 85ºC. The switches are supplied with a standard wire length and flow rate set points, but can be customized to suit customer needs.
Why the FSU?
Wherever there is a need to detect the flow of fluid there may be a requirement for a flow switch. To list all areas where this is applicable to the FSU is prohibitive. However the FSU will be used as either a process
control device or system protection device. The FSU is compact, reliable and has very little pressure drop across the switch due to its design, and more cost effective compared to its competitors.
Typical examples of usage are, heater element protection, pump run dry protection, server room cooling flow failure detection or industrial or domestic water supply leak detection.
Applications:
– Circulation pump protection
– Leak detection
– Flow sensing
– Mains water control
– Dispensing Equipment
– Cooling system for electronic equipment (Laser Heads, Welding machine, X-Ray Tubes, Semiconductor Equipment)
– Processing Equipment, Water Purifications and Filtering, Distilling
– Presses, Rotating Equipment, Conveyors, Machine Tools, Robotics
Features:
• NSF-61 approved
• Power ratings 25 VA
• Wide connection range
• Fast switching, allowing precise control
• Compact in-line design
• High life expectancy
Enquiry Form: http://www.epreston.co.uk/contact/
Home Page: http://www.epreston.co.uk/epblog/