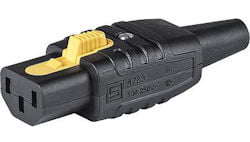 The IEC appliance inlet 4783 from Schurter is the first of its kind: for the first time it combines a reconnectable C13 appliance inlet with the proven V-Lock cord retention system. Available in black, white and grey for better differentiation – e.g. in 3-phase systems.
Ideal for Small Series Builds
Reconnectable appliance sockets are particularly suitable for small series builds. With these inlets you are free to choose the cable length and country-specific plugs.
V-Lock
Schurter already offers a wide range of rewireable IEC device connectors. New and unique to the 4783, is the integrated V-Lock cord retention system, which effectively prevents the cable from being pulled out unintentionally.
Assembly
A cable guard with a diameter of 8.5 mm or 10 mm is pre-assembled at the factory. The screw terminals accept cables with cross-sections between a minimum of 3 x 0.75 mm²/18 AWG (0.82 mm²) and a maximum of 3 x 1.5 mm²/14 AWG (2.08mm²).
Halogen-Free Construction
Schurter's Type 4783 does not use halogens in the cable guard or any other plastic components.
Approvals
The 4783 appliance inlet has all approvals for the European, Chinese and North American markets. It is also already certified according to the new UL 60320 standard.
Enquiry Form: http://www.epreston.co.uk/contact/
Home Page: http://www.epreston.co.uk/epblog/