D4 Switch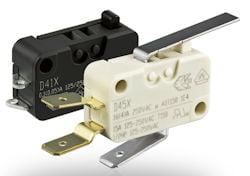 ZF Friedrichshafen AG's D4 miniature snap action switch has been an industry standard for many years. Originally this style of switch became popular with appliance manufacturers, due to its small size and excellent current carrying capabilities.
The D4 series benefits from an increased tracking resistance of PTI 300, a high functional reliability, and excellent switching precision. Using application-specific contact materials for switching currents from 0.1A up to 21A at 250VAC, the switches offer superior contact reliability. Due to several available actuators and mounting points, the devices will prove suitable for many different applications.
ZF are pleased to confirm approval has recently been received for the NCKL2/8 UL certificate which applies to the D4 range. They are now certified as ignition protected against new refrigerants which are being used within domestic white goods including refrigerators, ice machines, heat pumps and air conditioning units.
Enquiry Form: http://www.epreston.co.uk/contact/
Home Page: http://www.epreston.co.uk/epblog/