• Variants with ground choke
• Highly resistant – fully potted
• Interrupts ground loops
• V-Lock cord retention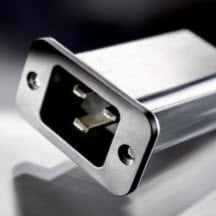 Schurter extends its successful power entry module series C20F with versions including a ground line choke, designed for suppressing high-frequency interference on the ground conductor. Additionally, the new variants have a bigger X-capacitor for better symmetrical attenuation.
The C20F filter series combines an IEC C20 appliance inlet with a high-quality mains filter. The particularly wide metal flange makes contact with the housing surface over a large area, thus enabling optimum filtering and shielding.
Ground Choke
New variants of the C20F appliance inlet filters are equipped with a ground choke. The line filters have a second choke on the earth conductor in addition to the current-compensated choke on the pole and neutral conductor. The ground choke is located between the device plug and the filter output. Placing it directly at the mains input ensures that possible high-frequency interference currents on the earth conductor cannot bypass the filter via the housing. Medical filters in particular (no Y-capacitors) benefit from improved asymmetrical attenuation in the higher frequency range due to the ground choke.
Applications
The C20F filter series is available as standard or medical version and is used in devices that require a particularly high noise immunity. These include IT or telecom systems according to IEC 92368-1 and medical devices according to IEC 60601-1. The series is compatible with V-Lock device connection cables.
The C20F series is certified for currents up to 16 A / 250 VAC according to IEC standard and 20 A according to UL/CSA standard at 125/250 VAC. It provides ENEC, CQC and cURus approvals.
Enquiry Form: http://www.epreston.co.uk/contact/
Home Page: http://www.epreston.co.uk/epblog/