Self-Sufficient RF Transmission of Switch Signals Without Battery and Wires.

Energy Harvesting Switch Solutions Technology is an energy harvesting switch which reacts to its environment without a need for energy. This solution developed by ZF is based on the principle of Energy Harvesting and does not require any wires. Energy Harvesting can be described as an 'operation without any auxiliary energy'. Instead of generating auxiliary energy through an integrated energy source or adding it via an external energy supply, energy that is available in the surrounding environment or that is acting on the system is converted. Therefore an Energy Harvester generally speaking is an energy converter.
The wireless RF switch system from ZF based on an energy harvester transforms the mechanical input energy of the actuation into electrical energy, which then transmits, for example, a switching signal to a wireless receiver via RF electronics. The advantages of the system are that the switch can be placed anywhere without the need for any wires. Over its whole life cycle it will fulfill its function completely maintenance free and without any need to replace a battery. The RF switch is fed with different input parameters and is capable of reacting to its environment.
The energy harvesting RF-switches from ZF can be used in a variety of applications such as industrial automation and building automation, smart home or medical technology. Designed for global use, the switches provide an excellent alternative to wired or battery-powered systems.
System Advantages:
• Reduction of connection systems
• Flexibility for inaccessible locations
• No complex wire assembly
• Maintenance-free – no batteries need to be changed
• Network-compatible
• High energy efficiency
• Long mechanical life
• Flexible "Pairing" allows the operation of several receivers with one switch (and vice versa)
• Unique ID excludes a mutual interference between different RF-switches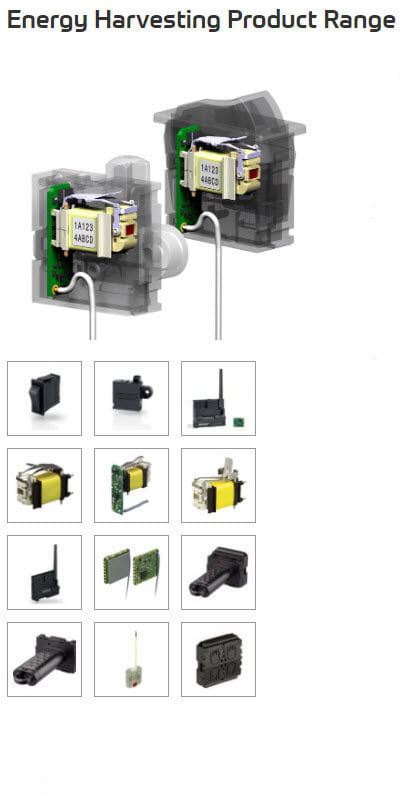 Description
> Compact & highly efficient Energy harvesting wireless system consisting of a generator and receiver.
> Network compatible wireless data transfer via RF-technology.
> "Unique ID" excludes interference between RF-switches.
> Several frequency bands allow global use within different applications.
> Flexible "Pairing" allows the operation of several receivers with one switch (and vice versa).
> Environmentally friendly – no batteries need to be changed or disposed of.
> Long mechanical life (up to 1.000.000 operations).
Receiver
> Integrated receiver (in existing ECU) or as a separate unit (in a housing/as a plug-in receiver PCB).
> Antenna integrated or external
> Output interfaces: Low voltage relay 230V / 0.5A; RS 232 TTL Bus; RS 485 TTL Bus; Digital interface (high/low) / SPI; USB
Product Range
> The product is available in the form of a "raw" energy harvesting generator or generator with PCB and antenna system, as a rocker switch, snap switch or light switch module.
> A Wireless Switch Module fulfilling KNX-RF 2.0 is also available.
Enquiry Form: http://www.epreston.co.uk/contact/
Home Page: http://www.epreston.co.uk/epblog/