Metal Line Switch with Excellent Price / Performance Ratio
• Very low mounting depth
• High ingress protection IP67
• Resistant against vandalism
• Long lifetime
In response to customer requests for switches with a smaller diameter and a particularly low mounting depth, Schurter extends its successful MCS series of short-travel switches with a durable, robust 16 mm variant.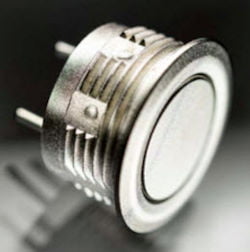 The MCS16 is an extension of the successful MCS switch series (MCS19, MCS30). It is recommended as the first choice wherever low mounting depth and particularly high robustness are required.
Zinc-die-cast or stainless steel actuator
The customer can choose between an actuator made of zinc-die-cast or stainless steel. The stainless steel version offers the additional option of individual laser marking. The switch housing is always made of zinc-die-cast.
Point illumination red and green
Both the zinc-die-cast and the stainless steel actuator are also available with point illumination if optical feedback from the switch is required. The customer can choose between red and green illumination, whereby both colors are already installed. Further colors can be realized on request.
Robust design with IP67 / IK06
Same as the larger variants of the MCS series, the new MCS16 has an IP protection rating of IP67 and an impact resistance of IK06. The MCS16 can therefore be used in a wide range of industrial applications or in applications under harsh environmental conditions. In addition, the robust housing front offers optimum protection against vandalism.
Versatile terminal connection options
The MCS16 offers a variety of terminal connection options. Classic pins for PCB mounting are available as well as pins with a soldering aid for direct connection of a wire. All point-illuminated versions are supplied with this option. Last but not least, there is also a terminal clamp available as optional accessory for fast and easy screw connection.
MCS16
Applications
– Industrial machinery
– Medical devices
– Public vending machines
– Laboratory instruments
– White goods
Enquiry Form: http://www.epreston.co.uk/contact/
Home Page: http://www.epreston.co.uk/epblog/