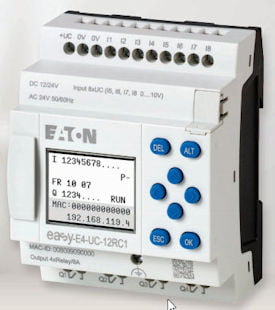 Whatever your application, the easyE4 control relay allows for control systems that are efficient, flexible and easy to implement. The new easyE4 range is significantly more compact than the previous easy500, easy700 and easy800 series.
Thanks to the flexible expansion with up to 11 modules to a maximum of 188 inputs/outputs, as well as the large voltage range, the easyE4 is ideally suited for industrial and building applications. For additional flexibility, the intuitive easySoft programming software comes with four programming languages as standard, including function block diagram (FBD) and structured text (ST). New helpful function blocks, such as the automatic e-mail notification, as well as the possibility of creating own function blocks facilitate the programming for each user.
Thanks to the integrated web server, both mobile devices or an HMI can be used for visualization purposes. If used in combination with other products from the Eaton portfolio, the easyE4 can also be integrated into IIoT (Industrial Internet of Things) system architectures via the integrated Ethernet interface. In combination with the interrupt function, the powerful processor enables faster processing and response times during operation.
• Maximum flexibility, with up to 11 local expansion modules per base unit
• The 188 available inputs/outputs within a single easyE4 system provide coverage for a broad range of applications
• A compact product with a large voltage range (DC, AC and UC)
• Base units with different voltage types can be combined as required by means of the available expansion modules, which makes handling the easyE4 devices extremely easy
• The integrated Ethernet interface allows for a broad range of communication options
• A user-friendly programming environment with 4 programming languages (ST, FBD, LD, EDP) to choose from
• Various display and visualization options, eg. on mobile devices are possible thanks to the integrated display, web server and Ethernet options
• The integrated micro SD card facilitates data logging and customized starter programs
• Display with 3 background colors (red, green, white) for visualization of different device statuses
• DCF77 radio signal analysis as well as Ethernet services ensure highly precise date and time indication
• The interrupt function enables fast event recognition and rapid response times
Enquiry Form: http://www.epreston.co.uk/contact/
Home Page: http://www.epreston.co.uk/epblog/