* Very high melting integral (I2t)
* Variants up to 50 A (Pigtail)
* Clip and Pigtail versions
* Excellent price-performance ratio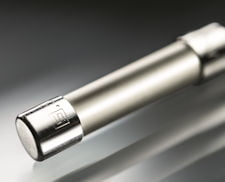 With the SUT-H, Schurter introduces a new 6.3×32 mm ceramic fuse for single-phase applications for high rated currents from 10 A to 50 A. Thanks to a particularly high melting integral, it is particularly suitable for applications where high inrush currents occur.
The new Schurter SUT-H is technically based on the proven SUT. In contrast to the known fuse, the SUT-H has a much higher melting integral, which makes it particularly pulse resistant. High inrush currents, which occur in power supply units, are easily absorbable.
The fuse is offered for direct mounting on the PCB with pigtails or with a solid beryllium-copper clip (Schurter CQP), which allows an easy replacement of the fuse without soldering. The clip can be up to a rated current of 10 A.
The new 6.3×32 mm SUT-H ceramic fuse opens up completely new areas of application by extending the rated current range up to 50 A and opens completely new areas for innovative applications.
The fuse meets the requirements of the UL 248-14 standard, is cURus approved and RoHS compliant. The SUT-H is developed and manufactured by Chi Lick SCHURTER in China.
Enquiry Form: http://www.epreston.co.uk/contact/
Home Page: http://www.epreston.co.uk/epblog/