* First-class workmanship (haptics, optics)
* Outstanding tactile feedback
* Homogeneous ring illumination
* Vandal-proof (IP67 and IK07)
Schurter has revised and fine-tuned its MSM Metal Line series with ring lighting, which has been successful for years.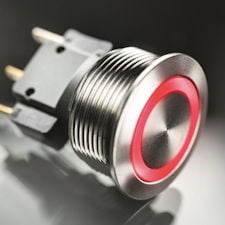 The optimized switches of the MSM family still have the same diameter of 19, 22 and 30 mm. The high-quality housing made of either robust stainless steel or aluminium also remained untouched.
Two things have changed: By cleverly selecting a new material that diffuses the light much more widely, the LEDs used for ring illumination are no longer individually visible. One can now truly speak of homogeneous illumination. Secondly, the ratio of housing diameter to the width of the illumination ring has been redesigned, resulting in a more pleasant, scaled appearance.
What has remained, however, is the robustness of the switches: Due to the high sealing protection and impact resistance values of IP67 and IK07, the switches are particularly suitable for use in devices in harsh environmental conditions or in applications that require protection against vandalism.
Due to the mechanical stroke, also the new MSM versions from Schurter offer unparalleled tactile feedback.
Technical Data / Approvals
– Switching function: momentary
– Supply voltage: 24 VDC
– Switching voltage: max. 250 VAC / 30 VDC
– Switching current: max. 10 A / 100 mA
– Switching power: max. 2500 W / 3 W
– Resistance when open: > 100 MO
– Resistance when closed: < 30 mO / < 50 mO
– Actuation force: 4.5 N
– IK protection: IK07
– IP protection: IP67
– Operating temperature: -25 °C to +85 °C
Applications
– Industrial applications
– Medical devices
– Public vending machines
– Laboratoy instruments
– Building technology
– Maritime applications
Enquiry Form: http://www.epreston.co.uk/contact/
Home Page: http://www.epreston.co.uk/epblog/