* Very compact design
* Various mounting options
* Variants with ground choke
* V-Lock cord retention
* Fuseholder meets latest IEC standard#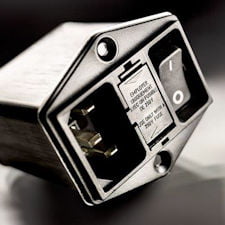 Schurter extends its successful power entry module series DD12 with new variants for screw and snap mounting. New versions are also available with additional ground choke for suppressing high-frequency interference on the ground conductor. The DD12 with fuse holder, switch and filter offers remarkable functionality in a very compact housing.
The DD12 filter series combines an IEC C14 appliance plug with a 1- or 2-pole fuse holder, a 1- or 2-pole switch and a high-quality mains filter. The particularly wide metal flange (horizontal or vertical) make contact with the housing surface over a large area and thus enables an optimum filter and shielding effect.
Ground Choke
The DD12 series is now available with a ground choke. In addition to the current-compensated choke on the pole and neutral conductor, the line filters have a second choke on the earth conductor. The ground choke is located between the device plug and the filter output. Placing the filter directly at the mains input ensures that possible high-frequency interference currents on the earth conductor cannot bypass the filter via the housing. The versions with medical filters (no Y capacitors) especially benefit from improved asymmetrical attenuation in the higher frequency range due to the earth line choke.
Applications
The DD12 series is available with standard or medical filter. It is suitable for use in devices that require a particularly high immunity to interference. These include IT or telecom systems according to IEC 90650-1 and medical devices according to IEC 60601-1.
The series meets the new fuseholder requirements outlined in IEC 60127-6 for enhanced fire safety and is also suitable for use in home appliances according to IEC 60335-1. It is compatible with V-Lock retaining cordsets.  The DD12 series is certified for currents up to 10 A/250 VAC according to IEC standard and 8 A according to UL/CSA standard at 125/250 VAC. It is ENEC and cURus approved.
Enquiry Form: http://www.epreston.co.uk/contact/
Home Page: http://www.epreston.co.uk/epblog/