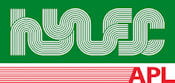 Hylec-APL, the specialist supplier of electrical components and enclosures, has announced the extended TLM Series of screwless PCB terminal blocks. Needing no special tools, the TLM Series offers fast connection for wire sizes between 0.05mm² and 8.37mm² and are shock-resistant. Devices within the TLM Series are available in multiple styles and pitches to offer designers optimum flexibility in design and the possibility of saving valuable PCB real estate.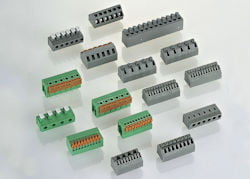 Just a short description of a few of the terminal blocks within the TLM Series illustrates the breadth of this comprehensive series. The TLM250C is available from 2-pole, has a sprung screwless push wave design with long pin close to the side cover. On a 2.50mm pitch, rated voltage is 250V, rated current 2A and minimum wire size AWG20. The TLM250D models are the short pin close to side cover equivalent, again rated for 2A/250V. The TLM900R is also available from 2-pole, with a sprung screwless pushbutton wave horizontal 2.54mm pitch design which is end stackable. Rated voltage is 150V, rated current 2A, with wire sizes 26 – 20AWG (0.2/0.5mm²). An equivalent vertical model, the TLM900V is available too. On a 3.50mm pitch, the TLM002C and TLM002D are 2 pole spring screwless pushbutton Wave designs with either long pin close to side cover or short pin close to side cover. The single row, design is rated 250V, 2A, with a wiring orientation of 135 degrees wire to board. The TLM-302R screwless push button design on a 5.08mm pitch offers rated voltage of 300V and rated current of 10A in 20 – 14 AWG size. The design is 180 degrees wire to board.
Three new 300V 15A devices with 2 – 24 poles, designated TLM-203B, have now been added to the TLM Series which will continue to be expanded, with new models currently in development. The three new TLM-230B models are available in 5.00mm, 7.50mm and 10.mm pitches, with rated voltages of 300V, rated current of 15A for wire ranges between 28-12AWG(0.2-2.5mm²).
Suitable for through-hole mounting and in pushbutton Wave and tool-operated variants, Hylec's screwless push wire PCB terminal blocks are available in green, with some styles also available in grey, black and orange. Hylec also supplies matching green and black fuse holders.
Enquiry Form: http://www.epreston.co.uk/contact/
Home Page: http://www.epreston.co.uk/epblog/