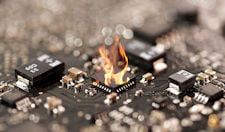 A thermal runaway is an increasing threat to electronic devices where more and more power is packed in ever smaller spaces; it is a threat that is poorly dealt with using traditional means.
The causes of a thermal runaway are varied and often random in nature. However, the ever-higher power density in electronic wiring and the trend towards miniaturization are without a doubt of particular importance.
More and more functions are packed in compact modules, which then also have a correspondingly high power consumption. Even slightly excessive currents in power electronics with only a little power loss lead to elevated temperatures of approximately 200 °C. The possible consequences: damage or disconnection of surrounding components, damage to the printed circuit board structure or, in the worst case, the triggering of a fire.
Click Link Below for Application Notes:
Protection Against Thermal Runnaway
Enquiry Form: http://www.epreston.co.uk/contact/
Home Page: http://www.epreston.co.uk/epblog/