Metal Line Switches with Homogeneous Ring- or Area Illumination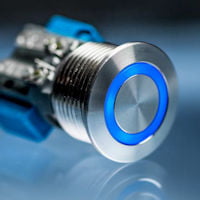 Schurter expands its Metal Line switch series to include an illuminated 16 mm version. The compact mechanical push button switch provides a sleek look accentuated with a quality homogeneous illumination in a ring style, or complete surface area illumination. Illumination color options include red, blue, green, yellow and white. The standard supply voltage for the illumination is 24 VDC.
The new 16 mm MSM features a housing made of stainless steel with a mechanical actuator for tactile feedback. The robust anti-vandal design, with IP67 seal protection and IK07 impact resistance ratings, makes it especially suited for use in harsh environments. Additionally, the new 16 mm MSM includes signal switches designed for voltages of up to 30 VDC at 100 mA. The power switches are rated up to 250 VAC at 10 A, making the switches particularly versatile when it comes to panel designs combining both power and signal switches.
Technical Data / Approvals
– Switching function: momentary
– Illumination Supply voltage: 24 VDC
– Switching voltage: max. 250 VAC / 30 VDC
– Switching current: max. 10 A / 100 mA
– Switching power: max. 2500 W / 3 W
– Resistance when open: > 100 MΩ
– Resistance when closed: < 30 mΩ / < 50 mΩ
– Actuation force: 4.5 N
– IK protection: IK07
– IP protection: IP67
– Operating temperature: -25 °C to +85 °C
Application
– For indoor and outdoor applications
– Industrial machinery
– Vending and ticketing machines
– POS terminals
– Public transport
– Pro-sound equipment
– Food industry
– Lab equipment
Enquiry Form: http://www.epreston.co.uk/enquiries.php
Home Page: http://www.epreston.co.uk/epblog/