A new technological product has been added to the range of presence and movement detectors of Series 18: this is the type 18.5K detector with KNX technology.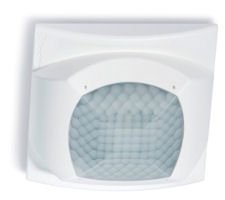 The new movement sensor uses the reliable and tested detection technology that already characterizes the previous Series 18 detector models and is suitable for applications in building automation systems featuring the KNX standard.
Technical features:
Specifically designed to sense micro movements, this sensor is the ideal solution for the management of lighting systems in offices and work environments in general and schools.
The sensor lens has been developed to obtain higher sensitivity in the detection of micro movements and guarantees two reading and sensitivity areas, identified as
•a movement area, which is larger and covers an area of 8×8 m;
•a presence area, which is more important for detecting small movements, and covers an area of 4×4 m.
The type 18.5K movement and presence sensor is provided with 2 software outputs, one of which is controlled according to the light measured by the internal sensor (this function can be disconnected), and is also appropriate for particular types of systems where it is necessary to control both the lighting and the heating/air conditioning.
There is also a third software output that sends only movement information to the KNX Bus: thanks to specific software inputs, sensors can be networked in Master/Slave configuration. This functionality is particularly suitable for controlling large rooms.
Accessories included in the package:
The detector is supplied complete with supports that can be used for ceiling or suspended ceiling mounting and is powered directly by the KNX Bus.
Enquiry Form: http://www.epreston.co.uk/enquiries.php
Home Page: http://www.epreston.co.uk/epblog/