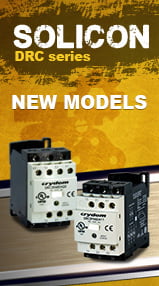 Crydom is pleased to announce the expansion of their SOLICON DRC Series, now featuring new DRC3P 3-phase contactors with higher operating voltage rated at 600 VAC and an enhanced 18-30 VDC control input option for DRC3R Reversing models.
DRC Series
•  7.6 Amp AC Semiconductor Motor Controller
•  Load voltage range up to 600VAC
•  Fits standard 35mm DIN Rail
•  LED input status indicator
•  AC or DC control
•  Zero Voltage (resistive loads) or instantaneous (inductive loads) turn-on output
•  C-UL-US Listed, CCC Certified, IEC Rated, CE & RoHS Compliant, Horsepower Rated
•  Built-in Overvoltage Protection
•  Ultra-efficient thermal management design (Patented)
Solicon DRC3 Series are Solid State Contactors intended for frequently switching on and off three phase loads up to 5 HP, 600 VAC 7.6 Amps. They are available in both contactor versions
DRC3P and reversing contactor versions DRC3R.
The Solicon Contactor DRC3P is available in either instantaneous turn-on (for Motor Control) or zero voltage turn-on (for Resistive Loads). It is available in either 2 or 3 controlled leg versions. The 2 legs control version is particularly suitable for motor control circuits where the neutral conductor is not utilized.
The Solicon Reversing Contactor DRC3R includes an interlock control that allows only off, forward and reverse operation in a safe mode while providing high space saving; it switches
instantaneously upon application of the control voltage unless an instantaneous change of direction is commanded, then it will delay the direction change by 100msec in order to prevent
simultaneous forward and reverse operations.
All the models of Solicon DRC3 Series combine the benefits and advantages of a solid state contactor with the functionality and simplicity of use of an electromechanical contactor thanks to the proprietary thermal management technology (Patented) and complete electrical insulation (no grounding required); the embedded auxiliary contacts, normally open and/or normally
closed, are intended to be used at 18-280VAC. Five different control voltages are available in order to cover most applications. All models include overvoltage protection.
Enquiry Form: http://www.epreston.co.uk/enquiries.php
Home Page: http://www.epreston.co.uk/epblog/