CRYDOM'S POPULAR MINI-PUCK SOLID STATE RELAY IS BACK WITH MORE POWER & ADDITIONAL FEATURES
The EL Series is Now Available with an Improved Mechanical Design Rated up to 30 Amps and Optional 90° Bent Terminals for Reduced Spaces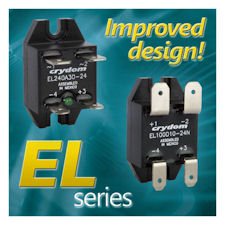 Crydom presents the redesigned range of EL Series AC and DC output solid state relays with ratings up to 30 Amps, making it the highest current rating SSR in this compact footprint. The EL Series SSR comes in a 21mm x 35mm housing with quick connect terminals, ideal for applications where space is at a premium, such as small commercial and medical machines.
The internal construction and housing of the EL Series has been re-designed for improved reliability, robust mechanical construction and improved thermal performance. Recently added optional built-in overvoltage protection (internal TVS diode) on AC models, as well as a unique optional 90° bent terminals for applications where vertical space is limited.
Other features of the EL Series include:
•  Load current ratings of 30 Amps @ 24-280 VAC and 10 Amps @ 3-100 VDC
•  Back-to-back SCR output with low off state leakage current (AC models)
•  Low dissipation Mosfet output (DC models)
•  Flexible 5, 12 and 24 VDC control voltage options
•  Zero voltage or instantaneous turn-on outputs (AC models)
Crydom's EL Series SSRs are C-UL-US Recognized, TUV compliant according to IEC 62314 (AC output version), CE compliant to the Low Voltage Directive, and RoHS & China RoHS compliant. Additionally, the enclosure and the PCB of the EL Series solid state relays meet the requirements of standard IEC60335-1, which make it an ideal option for demanding applications in the household appliances and professional food equipment.
Enquiry Form: http://www.epreston.co.uk/enquiries.php
Home Page: http://www.epreston.co.uk/epblog/