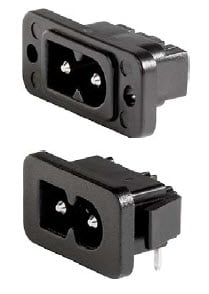 With the two appliance inlets series 2577 and 2579 SCHURTER expands the product range of the 2.5 A products in protection class II with polarized versions for snap-in and screw-on mounting.
The polarized appliance inlets ensure the position of the LIVE contact from the main socket into the appliance when cordsets with polarized main plugs are used, e.g. NEMA or UK plugs. However, these cordsets must be equipped with polarized connectors C7p. The polarized inlets can also be used with
the common C7 connectors, however, the polarization is not ensured.
Type 2577 is designed for screw-on mounting, type 2579 for snap-in mounting. Both types are
configurable with solder, quick connect or PCB terminals in various shapes and orientations. Besides the
preferred color black, the appliance inlets are also available in white or gray.
Technical Data / Approvals
– IEC Appliance Inlet C8p (polarized)
– Rating: IEC/UL/CSA: 2.5 A @ 250 VAC, UL/CSA: 7 A @ 125 VAC
– Solder-, quick connect and PCB terminals
– Snap-in and screw-on mounting
Enquiry Form: http://www.epreston.co.uk/enquiries.php
Home Page: http://www.epreston.co.uk/epblog/