Schurter expands the UMT-H range with the rated currents 12.5A and 16A. The compact SMD fuse stands out with its high breaking capacity of 1500A at rated voltage. With its square, compact design, the UMT-H is the space saving alternative to classic cylindrically shaped cartridge fuses (e.g. 5×20 mm) and also suited for more cost-effective, automated assembly.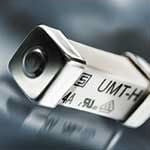 Features:
* High voltage ratings up to 277 VAC / 250 VDC
* 19 rated currents from 160 mA to 16 A
* High breaking capacity of 1500 A
* Safe interruption at line voltage
* Smaller alternative to cylindrical 5 x 20 mm fuses
* Applications in explosive environments (IEC60079-11)
Applications:
* Primary protection on SMD PCBs
* Industrial electronics
* Sensors
* Power supplies
* Equipment subjected to explosion proof testing
* Lighting and other appliances connected to single phase 277 VAC in US market
.
The UMT-H range will be extended next year by the rated currents 20A, 25A and 32A.
Enquiry Form: http://www.epreston.co.uk/enquiries.php
Home Page: http://www.epreston.co.uk/epblog/