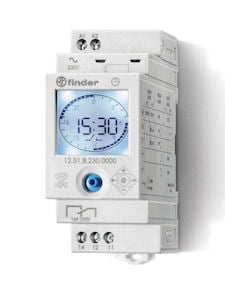 The ever popular 12.51 digital time switch and 12.81 Astro can now be programmed using NFC right from your android phone using the latest App from the Google Play store.
Perfect for lighting or controlling outdoor spaces such as lighting, CCTV, and fountains, these new versions can be programmed in classic mode via the joystick, or smart mode via smartphones with NFC communication. Once the FINDER Toolbox App is downloaded and installed, you can read an existing program, or program your device with maximum flexibility, changing the smallest details and saving your program directly to your smartphone.
At this point you simply touch the smartphone to the product to transfer the data. FINDER Toolbox provides all technical data sheets and News from Finder.
Featuring 1CO 16A contact, back-lit display, automatic summer time adjustment and internal battery, these automation essentials will save you time and energy.
Enquiry Form: http://www.epreston.co.uk/enquiries.php
Home Page: http://www.epreston.co.uk/epblog/