Honeywell's PX2 Series Heavy Duty Pressure Transducers are a portfolio of highly configurable pressure sensors that use piezoresistive sensing technology with ASIC (Application Specific Integrated Circuit) signal conditioning in a stainless steel housing.  The PX2 Series is fully calibrated and compensated for offset, sensitivity, temperature effects and non-linearity using the on-board ASIC. This provides a Total Error Band of ±2% over the operating temperature range of -40 ºC to 125 ºC [-40 °F to 257 °F].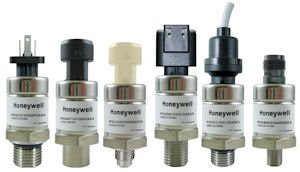 With thousands of possible configurations, the PX2 Series allows Honeywell to meet customer requirements and quickly provide samples. New standard configurations are regularly being added.
The PX2 Series is compatible with a variety of harsh media including brake fluid, common hydrofluorocarbon refrigerants, engine oil, tap water, hydraulic fluids, and compressed air. The wide operating temperature range, ingress protection up to IP69K, and 100 V/m radiated immunity allow for reliable performance in tough environments.
These transducers measure absolute, sealed gage, or vented gage pressure. The absolute versions have an internal vacuum reference and an output value proportional to absolute pressure, the sealed gage versions have an internal pressure reference of one atmosphere at sea level, and the vented gage versions measure pressure with respect to ambient pressure.
The PX2 Series is available in three pressure ranges:
• 1 bar to 70 bar
• 100 kPa to 7 MPa
• 15 psi to 1000 psi
All products are RoHS compliant and are designed and manufactured according to ISO 9001 standards.
POTENTIAL APPLICATIONS
Industrial:
HVAC/R: May be used to monitor system performance for proper environmental control of:
– Compressor inlet and outlet pressure
– Rooftop chillers
– Compressor rack rooms
– Refrigerant recovery systems
– Compressor oil pressure
Air Compressors: May be used to monitor compressor performance and efficiency, specifically:
– Compressor inlet and outlet pressure
– Filter pressure drop
– Cooling water inlet and outlet pressure
– Compressor oil pressure
– Filter pressure drop
General:
May be used to monitor air and fluid pressure in the following applications:
– Emissions monitoring
– Factory automation
– Flow and level
– Fluid power
– Foam dispensing
– Injection molding knock-out valves
– Lasers
– Laminating equipment
– Packaging equipment
– Pneumatics
– Pumps
– Solar energy
– Sprayers
– System pressure
– Valves
Enquiry Form: http://www.epreston.co.uk/enquiries.php
Home Page: http://www.epreston.co.uk/epblog/