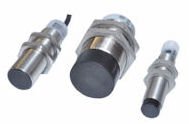 Featuring rugged stainless steel bodies, 360° LED indicator, permanently laser-etched label and –40 °C operation – Eaton has relaunched its E57 three-wire DC inductive proximity sensors, raising the bar for value in the sensor marketplace.  Among the relaunched series, the E57P and E57PS offer customers a wider operating voltage, temperature range, higher output current and more robust environmental rating than the E57G series.
However, the E57G series is the more cost-effective offering and is suitable for most customer applications, providing shorter lead time than Eaton's previous three-wire models.
Features:
• Stainless steel tube
• Short-circuit protection
• Unmatched noise immunity
• Manufactured to withstand harsh physical and environmental conditions
• Available in most popular connection types
• Shielded and unshielded versions available
• Permanently marked with laser etching
Benefits:
Eaton quality, industry standard mounting, high performance, increased reliability, costeffective, increased longevity, short lead times, and a variety
ofconfigurations to meet customer needs.
Operation:
The E57P, E57PS and E57G use the reliable eddy current inductive method of sensing to detect metallic objects that come within range. The proven design makes the product adaptable and easy to set up with most PLCs.
Standards and Certifications:
CE, cUL®, RoHS
Enquiry Form: http://www.epreston.co.uk/enquiries.php
Home Page: http://www.epreston.co.uk/epblog/