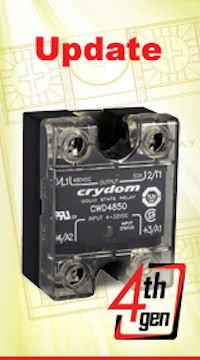 Crydom is pleased to announce the availability of SSRs in the final phase of our S1 Generation 4 project!   Production of Crydom (IP20 type) and Crouzet SSR (IP00 & IP20 types) AC & DC output solid state relays starts February 2015.   Improved technical specification sheets for the S1 Generation 4 AC & DC output products and collateral materials are now available.
As in the first phase of this project with other product families, Crydom has redesigned these products utilizing the latest in materials and technology.  As per the original intent of the project, the new S1 Gen 4 has equivalent or improved mechanical and electrical characteristics.  We also provide improved specification sheets for the S1 Generation 4 products with more comprehensive and detailed information.  Altogether our next generation products truly set a new benchmark in Solid State Relay performance and reliability.
The New Expanded Range of S1 Generation 4 Panel Mount Solid State Relays Include:
•  Improved "SEMs" screw and washer hardware
•  Direct output "lead frame" termination
•  Improved performance
•  Stress & epoxy free construction
•  Improved thermal performance with DBC
•  New housing with anti-rotation barriers
•  Improved IP20 safety cover
•  Improved IP00 touch safe cover
See Link For More Details  →   S1 Gen 4 Update
.
Enquiry Form: http://www.epreston.co.uk/enquiries.php
Home Page: http://www.epreston.co.uk/epblog/