Eaton is adding 14 new models to its successful line of PSG power supplies. The line extension includes 12 Vdc output models, redundancy and buffer modules, and more to provide efficient control power and increase system reliability. The line extension meets the needs of various applications and features.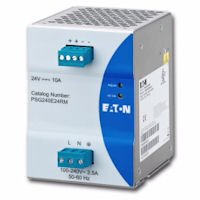 Benefits:
• 12 Vdc output
• NEC Class 2 rated model
• Redundancy modules
• Buffer module
• IP20 finger-safe terminals
• 3-year standard warranty
Market Segments:
• Mining and metals
• Oil and gas
• Municipal water / Wastewater
• Other industrials and processing
.
Enquiry Form: http://www.epreston.co.uk/enquiries.php
Home Page: http://www.epreston.co.uk/epblog/