Honeywell is pleased to announce its new Basic Board Mount Pressure Sensors, Compensated, Unamplified TBP Series. These new sensors are designed for customers who require a simple, high quality, cost-effective, basic performance, mV output device. They are compensated and unamplified, ideal for customers who want a temperature-compensated sensor with the maximum possible resolution.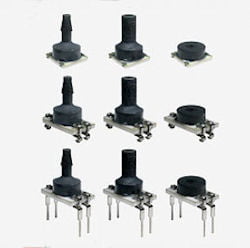 FEATURES  &  BENEFITS
• Wide pressure range: 60 mbar to 10 bar; 6 kPa to MPa; 1 psi to 150 psi
• Small: 7 x 7 mm [0.276 x 0.276 in] is very small when compared to most board mount pressure sensors, occupying less space on the PCB and typically simplifying placement
• Wide compensated temperature range: 0 °C to 85 °C [32 °F to 185 °F]
• Media compatibility: 
• Non-silicone-gel coating: The input port is limited to non-corrosive, non-ionic media such as dry air and gases and should not be exposed to condensation
• Silicone gel coating: Uses the same materials in the wetted media path but is protected from condensation by a silicone-based gel coating
• Various package styles:
DIP (Dual Inline Pin)
Leadless SMT (Surface Mount Technology)
SMT
• Various pressure ports: 
DIP: Single axial barbed port and low-profile port
Leadless SMT: Single axial barbed port and low-profile port
SMT: Single axial barbed port and low-profile port
• Supports Lean manufacturing
J-STD-020-D MSL 1 unlimited shelf life after packaging is opened
System can be calibrated within one hour after reflow solder
Compatible with modern lead-free and no-clean solder processes
• ISO 9001 compliance
POTENTIAL  APPLICATIONS
Medical
• Hospital beds
• Oxygen concentrators
• Wound therapy
• Blood pressure monitoring
Industrial
• HVAC transmitters
• Air movement control
• Environmental control
• Leak detection
• Industrial controls
• Pneumatic controls
• Other commercial applications
.
Enquiry Form: http://www.epreston.co.uk/enquiries.php
Home Page: http://www.epreston.co.uk/epblog/