Crouzet DCmind Brush Motors – Product of the Year 2013
March 2014, the 40,000 technical and scientific readers of the American magazine Medical Design Briefs voted the DCmind Brush range of DC motors Product of the Year 2013. DCMind  Brush motors were selected for their outstanding technical merit and practical value.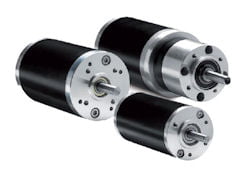 DCmind Brush motors are incredibly quiet, even at full load, offer excellent efficiency and an exceptional service life, and have an extensive range of gearboxes and accessories. The low noise level (35 dB) of DCmind Brush motors makes them particularly suitable for the medical and biopharmaceutical sectors, as well as laboratories, industry and office equipment and systems. They can also be used in many other high performance applications such as pumps and valves, and also in the railway, military and aeronautical fields.
"The new DCmind Brush motor generation adds a uniquely differentiated premium product to our current offering", says John Morehead, Crouzet Motors US National Sales Manager. "With its remarkably quiet operation, quality design and manufacturing, it greatly expands our application reach. Additionally, Crouzet's eco-design strategy has cut the environmental impact of the product's overall life cycle in half while at the same time improving the product's
energy efficiencies."
It is this extraordinary performance that won over the readers of Medical Design Briefs and made DCmind Brush the Product of the Year 2013.
.
Enquiry Form: http://www.epreston.co.uk/enquiries.php
Home Page: http://www.epreston.co.uk/epblog/