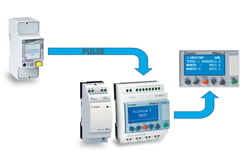 Crouzet Automation presents a set of energy counting solutions for commercial or industrial buildings, machines and installations. Thanks to its highly visible display, Millenium 3 is the right solution to visualize and centralize multiple energy meters with pulse outputs.
Up to seven pulse inputs, coming from different kinds of metering equipment, (energy, water, calories, etc.) are treated to display monthly consumption. This consumption can be tracked with the memory of the previous month, the total by use and the sum of the total uses.
The M3 Energy Expert solution is a set of macros functions delivered with associated literature. These macro functions can be easily interconnected to build Energy Management applications using M3 Soft V3.0 AC8. They are compatible with all metering products with pulse outputs!
You can adapt the application: change the number/name of uses, adapt the parameters to the metering equipment (100 – 1000 – 50 – 500 Pulse/kWh), use relay outputs for alarms, and add some other automation functions.
.
Enquiry Form: http://www.epreston.co.uk/enquiries.php
Home Page: http://www.epreston.co.uk/epblog/