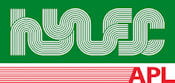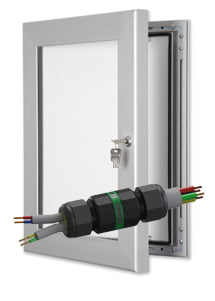 External display advertising is an effective means of communicating a message to a wide and diverse audience. Stock Displays is one of the UK's leading manufacturers of high-spec internal and external display products for use in public areas. With several prestigious clients Stock Displays needed to be sure that its products can withstand daily use and continue to display advertising messages in wind, rain and snow.
Fortunately Hylec-APL was able to offer a solution which met all of the company's needs.
*  All-new Mini-TEETUBE series TH391 is the latest addition to the innovative TEE family of weatherproof products which offer quick and easy installation with IP68 ingress protection.
*  TH391 is one of the smallest IP68 electrical connectors on the market which doesn't depend on silicone gel to prevent moisture ingress.
*  The connector uses a unique design which sees the terminal block forming part of the external housing to achieve its tiny footprint.
* IP68 seal is then formed using the dome topped cable glands which form the entry points of the connector.
.
Enquiry Form: http://www.epreston.co.uk/enquiries.php
Home Page: http://www.epreston.co.uk/epblog/