Bulgin – an Elektron Technology connectivity brand – has launched 4-, 6- and 8-pole versions of its popular PX0777 environmentally-sealed in-line cable joiner, offering cost-effective water- and dust-proofing for a wide range of applications.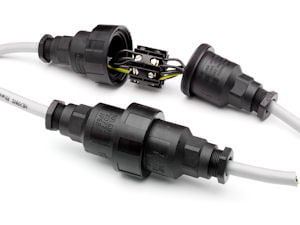 The original 3-pole version of the PX0777 has been part of the Bulgin Buccaneer range of environmentally sealed connectors for over 15 years, taking advantage of the Company's tried and tested technology to provide convenient IP68 rated connectivity for indoor and outdoor use. The recently released 4-, 6- and 8-pole cable joiners extends this robust environmental protection to a wider range of applications, offering rapid connection of multi­core cables.
The new variants of the PX0777 uses a specially designed circular terminal block – rated at 10 A, 250 V per pole – allowing safe, secure connection of up to eight 1.5 mm2 cores using the same compact moulded plastic body as the 3-pole version. Available with a variety of sealing glands to suit 3.5 to 9 mm cables, the PX0777 can be quickly and conveniently assembled without the need for special tools, making it ideally suited to on-site installation of mains power or signal connections, either planned or unplanned.
Stuart Hutchings, Marketing Manager for Bulgin, commented: "The new PX0777 is designed for use across a broad range of demanding applications in harsh environments. Engineers often don't know the exact length of cable needed until they get onto a site, so a 'fit and forget' solution such as the PX0777 is perfect for these situations, providing a reliable, long-term sealed connection in minutes."
.
Enquiry Form: http://www.epreston.co.uk/enquiries.php
Home Page: http://www.epreston.co.uk/epblog/