Schurter's 6610 appliance outlet, which is the first of its kind to utilize IDC technology, is now available with IDC terminals for 14 AWG/1.5 mm2 in addition to the existing version for 12 AWG/2.5 mm2. The new option allows for smaller diameter wire and thus less costly wiring in lighter duty applications.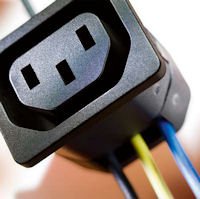 Series 6610 is ideal for use in power distribution units and other equipment where multiple outlets are banked in series. Unlike traditional outlets, which require wiring of individual quick connect or solder terminals, the 6610 with IDC technology allows wires to be bussed across the terminals, thereby connecting common terminals all at once. The IDC terminals are arranged either along or across the connector pin axis, allowing for a horizontal or vertical mounting orientation. Wires are pressed into place with the protective back cover. Versions with combination IDC and a quick-connect or solder terminal, for separate wiring of the line connection, are also available.
The 6610 outlet is newly offered with the V-Lock notch intended for use with a mating cordset that latches into the outlet to prevent unintentional disconnection from the power. The outlet is F style according to IEC 60320. The snap-in unit fits panels which have a thickness of between 0.8 mm and 3 mm. It is approved by cURus at 15 A at 250 VAC and ENEC at 10 A/250 VAC, and is qualified for applications in accordance with IEC/EN 60950.
.
Enquiry Form: http://www.epreston.co.uk/enquiries.php
Home Page: http://www.epreston.co.uk/epblog/