The Honeywell V15W is a standard-sized basic switch designed for harsh-duty, wash down areas. Rugged yet precise, the series provides machine control for turning circuits on and off. The V15W can be used in a wide range of challenging environments, including food packaging plants, forklifts, atvs, golf cars, lawn mowers, garbage trucks, salt trucks, commercial buses, forklifts and wheelchair lifts for conversion vans. Choose the V15W when you need accurate repeatability in a compact, light weight and long lasting basic switch.
V15W Watertight Series:  Watertight switch in a V-size package. Watertight to an IP67 rating (switch body only). The V15W is designed for applications requiring >15 g operating force and electrical ratings from 0.1 A to 10 A.
– Rugged yet precise, the V15W product performance matches customer design expectations for compactness, accurate repeatability and extended life, giving them flexibility in a wide range of washdown applications
– For design engineering flexibility, the VW15 Series features a variety of straight, roller, simulated roller, and special actuators to choose from (connectors on lead wires also available)
– Many switch characteristics, are available to create thousands of different potential configurations
– Designed specifically for challenging outdoor applications, the V15W gives repeatable and consistent performance within a range of conditions
– Able to operate under difficult environmental conditions, the V15W Series is designed to work in watertight or sealed applications requiring ≥15g of operating force
– Rated to IP67 (except terminal parts)
– The only V-sized switch rated up to 10A!  The higher rating allows the V15W to be used in a wider range of high current consumer and industrial applications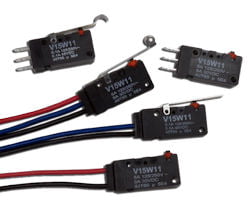 The V15W Series is the standard miniature snap-action switch in Honeywell's Micro Switch portfolio of products that also includes standard Z, and premium Large, V, and S Series. The Honeywell V15W Watertight Series switches are often chosen due to their small size and sealing options when customers need to sense presence or absence in a compact package with accurate repeatability and extended life, at a great value.
KEY FEATURES AND BENEFITS
* Broad range of electrical loads
* Straight, roller, simulated roller, and special actuators
* Special terminations available upon request
* Wide temperature range
* Global approvals (UL, cUL, ENEC, CQC)
POTENTIAL APPLICATIONS
For use in applications where a pre-wired sealed on/off switch is required.
* ATV and Off-road Vehicles:  Brake light assemblies, brake position detection, handle bar controls, run-away prevention, shift lever position (golf carts), marine controls
* Construction and Agriculture:  Joystick controls, pushbuttons, seat position detection (lawn and turf), pedal position detection, run-away prevention, lighting controls, PTO position detection, position detection on attachments, position detection on hydraulic systems (wake-up)
* Industrial:  Washdown factory floor, factory machinery, pressure/temp/flow switches, motor-controls (on/off, auto-stop), ice makers, valve position
* Medical Equipment:  Hospital bed controls, dental chairs, foot-pedals, pneumatic switches
.
Enquiry Form: http://www.epreston.co.uk/enquiries.php
Home Page: http://www.epreston.co.uk/epblog/