Crouzet Limited, has released its' latest edition of the Micro-Control Overview. Covering 95 pages, the catalogue features Crouzet's class leading range of control technology products including: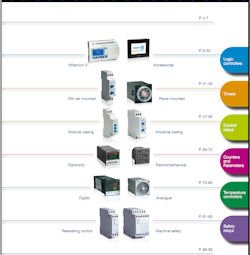 • 'Millennium 3' logic controller – including Smart and Essential versions and accompanying accessories
• Timers – including DIN rail mounted versions in 17.5mm and 22.5mm widths, Plug-in versions, Panel mounted versions with analogue, digital, electro-mechanical and manual reset options
• Control Relays – including Phase control (3 phase supply), motor temperature control and phase and sequence failure, Single phase DC Voltage control with selectable latching, current control (over and / or undercurrent), frequency control with window, level control and over / underspeed control, temperature control with window (lifts) to EN81
• Counters and ratemeters – including 24 x 48 single and multifunction electronic counters without preselection, 48 x 48 multifunction counters with preselection, electromechanical hour counters, impulse counters and dual function 48 x 48 counters.
• Temperature controllers – including 8 pin 48 x 48 analogue, 24 x 48 digital, 48 x 48 digital and accessories
• Safety relays – including EN81 relevelling control (lifts) and machine safety relays
Each section of the catalogue includes an easy to use selection guide to ensure simple selection of the right product for every application and all necessary product ordering information.
Click on the link below to view or download your copy of the New Micro Control Overview Catalogue.
http://www.crouzet.com/crouzet_docs/documents/EN_Overview-MCT-6712509.pdf
.
Enquiry Form: http://www.epreston.co.uk/enquiries.php
Home Page: http://www.epreston.co.uk/epblog/