UP1 Undervoltage Release Switch for Operators Safety
The new UP1 undervoltage switch monitors the supply voltage and actuates a trip release when there is an intense drop in voltage or when the supply voltage is interrupted. As soon as the supply voltage returns in full, the machine or equipment does not automatically restart in an uncontrolled manner, but must be consciously switched on again. Using this function, dangerous situations for operating personnel as well as for the surroundings of the device itself can be prevented.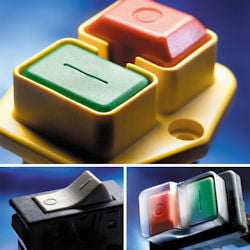 The UP1 is a 2-pole circuit breaker with additional undervoltage monitoring actuates a trip re-lease with a loss of voltage or an intense voltage drop. The breaker is available with rocker actuation for snap-in mounting or with push-button actuation for both snap-in mounting as well as screw fitting. Protection covers against the ingress of dust and spray water make the use of the breaker in harsh environments such as wood-, masonry- or metal-workings possible.
The requirement for the use of undervoltage protection is in existence for applications such as gardening equipment, gardening shredders, floor cleaning and sanding devices, electrical tools such as circular saws, band saws, grinding machines and drills. Further examples are fuel pumps, coffee-milling devices, fruit juice squeezing machines and fruit juice centrifuges.
The UP1 undervoltage circuit breaker is configured differently in its hardware for various net-work supply voltages und must be therefore ordered for the appropriate supply voltage. Rated switching category is AC-1 16A / AC-3 14.5A @ AC 240 V. The breakers are approved to IEC 60947, UL 508, CSA 22.2 No.14-95 and also contain a horsepower rating.
Technical Characteristics:
– 2-pole switch
– Undervoltage trip release with restart prevention
– Available with rocker or push-button actuation
– Dust and jetting water protection to IP 65
– VDE & cURus approvals for rated currents AC-1 16A / AC-3 14.5A @ AC 240V
.
Enquiry Form: http://www.epreston.co.uk/enquiries.php
Home Page: http://www.epreston.co.uk/epblog/