Finder has extended its relay range with versions designed to suit photovoltaic (PV) inverters, domestic appliances and other equipment needing reinforced insulation, high ambient temperature handling and full disconnection contacts.  The latest product introductions comprise the 45.31 16A rated mini PCB relay and 3 special variants of the 66 Series 30A rated power relays.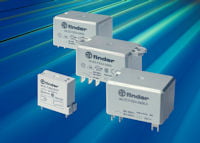 With an extended 3mm contact gap, the single pole NO 45.31 relay meets the requirements of the EN60730-1 standard for household use and is rated for operation at an ambient temperature up to 105ºC.  It has a high sensitivity 24V DC coil rated at 360mW.  In common with the 66 Series specials, the 45.31 has been designed with an 8mm clearance and creepage distance, ensuring safe separation of supply and output, and reinforced insulation between coil and contacts, meeting the requirements of EN60335-1 (VDE0700).
The 2 pole NO (DPST-NO) 66.22-x600, 66.22-x600S and 66.82-x600 30 amp power relays ensure a contact gap separation of 1.5mm, fully meeting the requirements of the VDE0126-1-1 standard for PV inverter applications.  In addition, the 600S variant provides a 5mm airgap between relay base and PCB for extra cooling particularly in systems where forced air cooling is employed as with many PV inverters.
For added flexibility, the 66 Series relays provide the options of PCB and flange mounting and Faston 250 terminations.  A 35mm rail mounting adaptor is also available.  A wide range of coil voltages is offered, spanning from 6V through to 125VDC.
.
Enquiry Form: http://www.epreston.co.uk/enquiries.php
Home Page: http://www.epreston.co.uk/epblog/